Neck Pain Chiropractor
One of the most prevalent musculoskeletal issues, neck discomfort, affects about 50% of people yearly. Mild neck discomfort can be a minor irritation, but if it persists and is mistreated, it can escalate to more severe symptoms, including numbness, tingling, and weakening. It can also cause headaches and arm pain. If your neck pain has worsened and is accompanied by pain that radiates down your arm, numbness or tingling in your hand or arm, or observable weakness, seek medical attention. This could indicate a cervical disc bulge, a herniated disc, or spinal stenosis, all of which would require definitive imaging (x-rays, MRIs) before beginning any treatment. Please seek medical attention from your physician or a hospital if you have suffered a head or neck injury, are experiencing dizziness or impaired vision, or cannot lift your head off your pillow on your own.
Every day, millions of individuals seek treatment from chiropractors near me for neck pain. A safe, non-invasive alternative to prescription drugs or over-the-counter painkillers, research demonstrates that chiropractic management of neck pain is one of the most effective treatments. Chiropractic neck adjustments assist in resolving spinal misalignments or joint limitations, which can lessen pain and enhance the function of the impacted nerves and joints. In addition, your neck's total mobility and the process will also improve along with your neck and upper back's entire body mechanics, which will assist ease your neck pain. Our affordable treatments at Collective Chiropractic will offer you long-term pain relief. Our experts specialize in treating the root cause of neck discomfort to help you feel better and get back to your life as quickly as possible.
Please schedule an appointment today for a consultation with one of our knowledgeable and experienced chiropractors. We'll develop a treatment plan tailored specifically for you to start feeling better as soon as possible. If you are struggling with neck pain, our team at Collective Chiropractic can help! Our chiropractors specialize in treating the root cause of your pain to provide long-term relief. In addition, we offer insurance-covered and affordable treatments to help you get back to your life quickly!
Walk-in Neck Pain Chiropractor
Diagnosing and treating spinal problems, especially the management of neck discomfort, is the core medical specialty of chiropractors. Chiropractors frequently treat headaches, neck discomfort, back pain, and other spinal-related disorders. Chiropractors can effectively alleviate pain by manipulating the spine and joints with their hands to restore appropriate motion and range of motion while relieving pressure on the nerves. In addition, supportive stretches and at-home workouts can help your chiropractic treatment plan better prevent neck pain.
A chiropractic neck adjustment can frequently heal migraines, relieve neck muscle tension, and improve posture. Chiropractic adjustments for the neck can be performed using various methods, from more forceful manual cervical manipulations to more delicate instrument spinal adjustments. Our chiropractors for walk-in clients here at Collective Chiropractic will evaluate your particular case and develop an individualized treatment plan to get you on the road to recovery. Your chiropractor will most likely use a combination of spinal adjustments, manual manipulations, massage therapy, and physical therapy exercises to achieve results. If you are interested in discovering more about how our chiropractic care can help relieve your neck pain, please call us or stop by our office today for a walk-in appointment.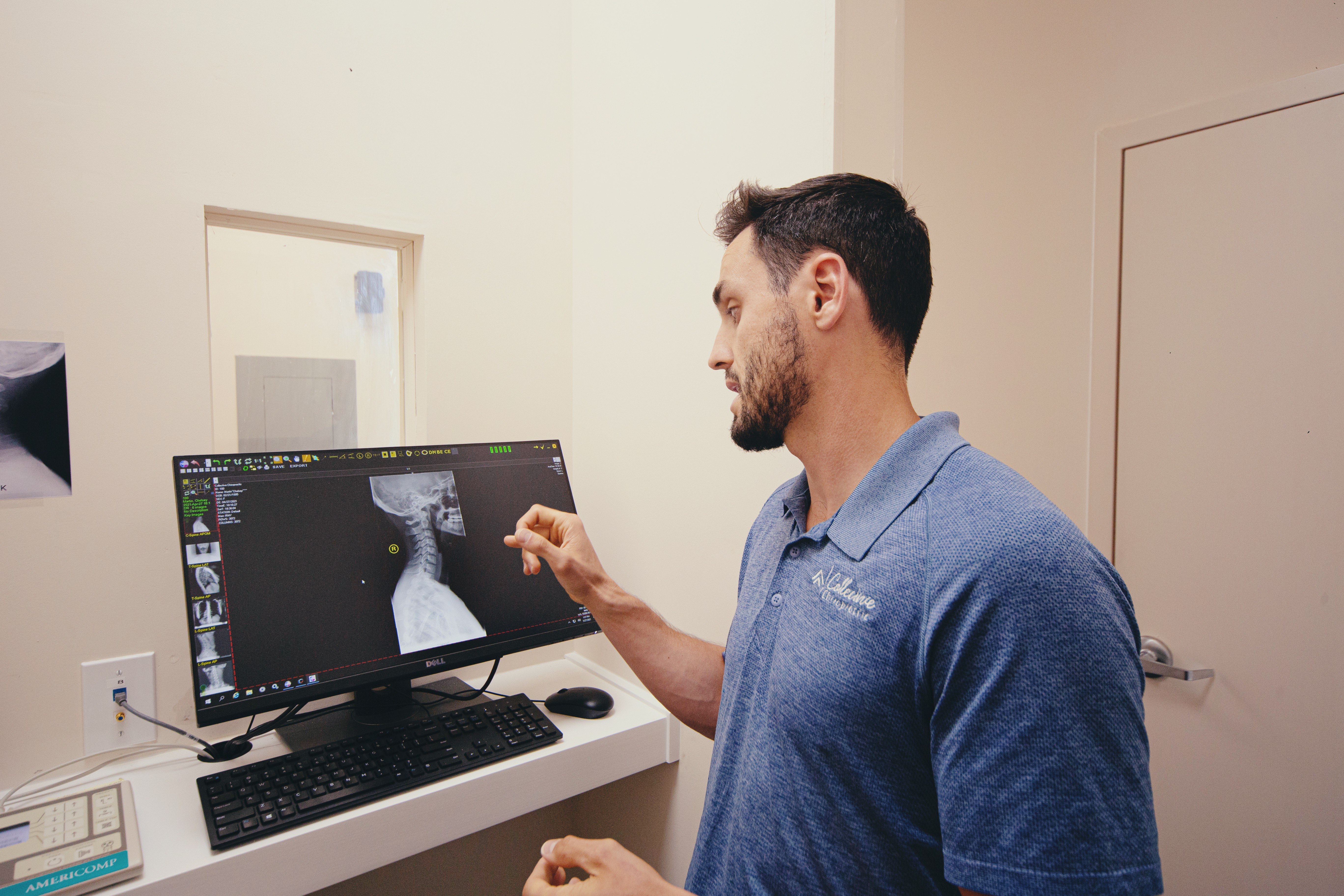 Signs You Need a Chiropractor For Your Neck Pain
When neck discomfort first develops, it is best to seek chiropractic treatment as soon as possible. Preventing the issue from worsening can make treatment and recovery more difficult, ensuring the quickest recovery. Before starting any neck stretches, exercises, or home care, please seek immediate medical advice from a skilled healthcare professional if your neck pain is accompanied by arm or hand pain, numbness, tingling, or weakness to rule out any significant underlying neck disorders. If any of the following signs or symptoms are present, you should seek professional help from a chiropractor:
You have had a recent head or neck injury
You are experiencing dizziness or impaired vision
You are unable to lift your head off the pillow on your own
The pain has gotten worse over time
The pain is accompanied by radiating pain down your arm or numbness and tingling in your hand or arm
You are experiencing observable weakness
If you have any of these symptoms, please seek medical attention immediately from your physician or a hospital. These could be signs of a cervical disc bulge, a herniated disc, or spinal stenosis, requiring definitive imaging (x-rays, MRIs) before beginning any treatment. Numerous studies demonstrate that chiropractic care is a secure and reliable method of treating neck discomfort. It is a complementary and alternative medicine that emphasizes the body's natural ability to repair itself while also focusing on the spine and how it affects the musculoskeletal and neural systems. Chiropractic care is personalized for each patient and does not follow a "one size fits all" philosophy.